The Ontario Child Advocate launched the Feathers of Hope initiative in 2013 to create a safe space where First Nations youth from across northern Ontario's 91 communities can speak out on matters of importance to them and engage with decision-makers to create meaningful change.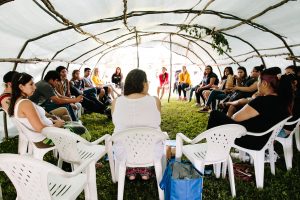 At the first Feathers of Hope forum in 2012, more than 100 youth (representing 62 of the 91 northern First Nations communities in Ontario) came to Thunder Bay to talk about the realities of life in their communities. Their voices and ideas for change were captured in a ground-breaking report entitled, Feathers of Hope: A First Nations Youth Action Plan
Residential schools and their effects;
dispelling myths;
identity and culture;
First Nations culture and teachings;
education and schools;
quality of education;
the tragedy of youth suicide;
mental and physical health;
drugs and alcohol;
sports and recreation;
youth opportunity and leadership;
role models and mentors;
sustainable funding;
child welfare;
accountability and transparency
Feathers of Hope is a powerful youth movement drawing thousands of First Nations young people from across Ontario together. Since its launch in 2012, the Advocate's Office has worked with many organizations as well as federal, provincial and First Nations leadership at the territorial and federal level; and met with young people from across the country to talk about the role First Nations youth can play in creating change. In 2013, the first Feathers of Hope forum created an action plan that outlined the future objectives for the initiative including the need for further forums that focused on specific themes. To date, the Advocate's office has held 3 additional forums on Child Welfare, Culture, Identity and Belonging and with a special request from Frank Iacobucci, who authored the report, "First Nations Representation on Ontario Juries," to host a forum on Justice and Juries. Feathers of Hope is committed to providing culturally safe spaces for youth to amplify their voices and to affect the change they desire within their communities. Feathers of Hope ensures the empowerment of First Nations youth, so they can continue to be their own leaders.