Releasing Feathers of Hope – Dear Cedar: A First Nations youth toolkit for understanding Ontario's Child Welfare System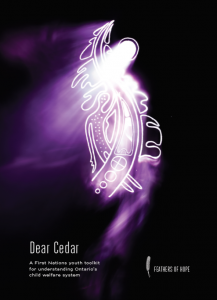 "Dear Friend,
I am proud to share with you an important piece of work produced out of the Feathers of Hope initiative's Child Welfare Forum.
In this child welfare toolkit, rather than speak primarily to governmental decision-makers, as was traditionally done in previous Feathers of Hope reports, young people wanted to create something that spoke directly to their peers and provide them with guidance as they navigated the child welfare system. This toolkit was developed to address the many different questions more than 100 young people raised during the forum in the hopes of helping young people today and in the future. This, to me, highlights that young people truly are mentors and leaders as they demonstrate their sense of duty to provide support to their peers in a time of vulnerability.
Over the past seven years, Indigenous young people from across Southern and Northern Ontario have come together to talk about issues of importance and concern to them, and to share their dreams about the kind of safe and healthy communities they want for themselves and for other Indigenous youth. They have spoken out on large, systemic issues, such as Ontario's justice system, child welfare system, culture, identity and belonging, and on health and wellbeing.
Feathers of Hope has deep roots in Northern Ontario, but its message from young people has taken on national significance thanks to the work of the Truth and Reconciliation Commission of Canada. A message of hope, and the importance of Indigenous young people mobilizing to create change, fuels the passion and commitment that is Feathers of Hope.
As I reflect on the journey our Office has taken alongside Indigenous young people, I think of the youth engagement and mentorship model that was imagined, and realized, through numerous Feathers of Hope forums and the direct outreach to youth our Office has hosted or organized.
Feathers of Hope has become a celebrated part of the work undertaken during my term as Ontario's Child Advocate. I am proud and humbled by the work and commitment demonstrated by Indigenous young people during the seven years they have welcomed us into their lives.
We hope you find this toolkit to be a helpful resource that you can share with those who may need the support and information. Most importantly, I hope it allows you to see that young people have commanding wisdom and lived experience into issues that affect them directly, and they must be part of the work and the action for change we want to see in our society. They must especially be supported when navigating what can often be an isolating, confusing and alien child welfare system.
– Irwin Elman"
Please follow the link below to read the beautiful work created by amazing, strong young people.
#TogetherWeAre #FeathersOfHope