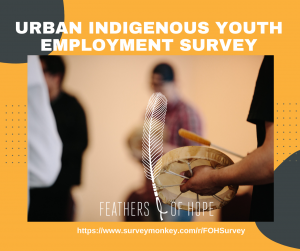 Calling all Urban Indigenous Youth!
Earn a $100 honorarium by using your voice to complete an employment survey!!!
Feathers of Hope in collaboration with the National Association of Friendship Centers wants to hear from Indigenous youth about your issues related to finding and keeping a job.
Once you have fully completed the survey, we will send you an honorarium for your participation. **Only one survey per household​​**
Chi Miigwetch!
Click the link for the survey https://www.surveymonkey.com/r/FOHSurvey  or scan the QRC Code.